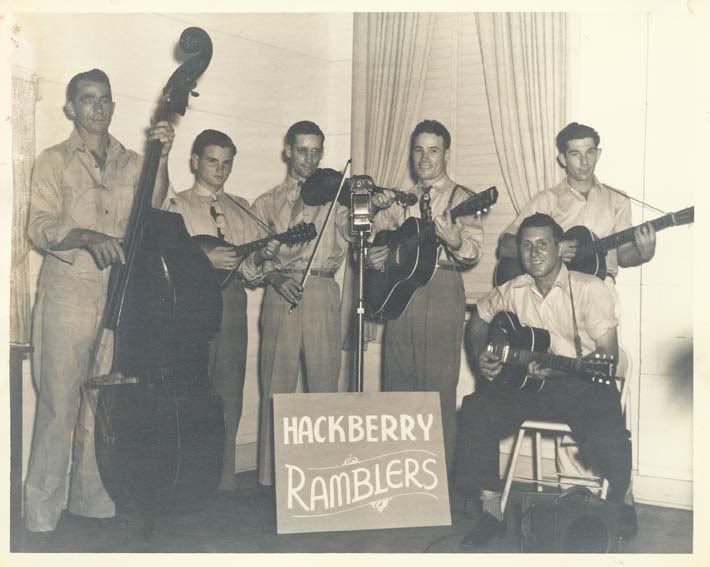 Set Four: The "Lost" Volume; Disc Two; Track Thirteen: "Dans Le Grand Bois (In The Forest)" performed by Hackberry Ramblers. Recorded in New Orleans on October 22, 1938. Original issue Bluebird 2059.
The Hackberry Ramblers are an influential Cajun group based in Hackberry, Louisiana, a small town in the southwestern portion of the state. The group was founded by fiddler Luderin Darbone (January 14, 1913 - November 21, 2008) and accordionist Edwin Duhon (June 11, 1910 - February 26, 2006) in 1933. While the group is famous for their interpretations of traditional Cajun music, they also perform western swing, blues, and rockabilly. Despite numerous changes in personnel over the years, the Hackberry Ramblers continue to perform to this day, surviving the passing of founding members Darbone and Duhon in 2008 and 2006, respectively.
"Dans Le Grand Bois" is a Cajun song that borrows the melody of "La Jolie Blonde," a song first recorded by
Les Breaux Freres
as "Ma Blonde Est Partie." The personnel of the Hackberry Ramblers on this recording is Luderin Darbone on fiddle, Floyd and Danny Shreve on guitars, and Pete Duhon on string bass and vocal. Whether Pete Duhon was a relative of Edwin Duhon or another name Edwin Duhon went by is not clear as of this writing. It is known that Edwin Duhon played guitar, bass, piano, and harmonica in addition to the accordion, so it is possible that Pete and Edwin Duhon are one and the same.
Moi, j'connais,
Ma 'tite fille.
T'es la bas dans l'grand bois tout seule.
Moi, j'm'en vas dans l'grand bois.
Moi, j'm'en vas dans l'grand bois.
Avec ma fille.

Moi, j'connais,
Ma 'tite fille.
T'es la bas dans l'grand bois tout seule.
Moi, j'm'en vas dans l'grand bois.
Moi, j'm'en vas dans l'grand bois.
Avec ma fille.
Many thanks to Neal Pomea for providing this transcription.
Unlike many of the Cajun selections on the original
Anthology
, which are primitive in the extreme, "Dans Le Grand Bois" reflects the influence of non-Cajun music, particularly country and western swing.
Pete/Edwin Duhon's lead vocal includes the distinctive vocal yelp towards the end of each line, so often associated with Cajun music.
According to Henry Wright, a fellow old time music enthusiast who also happens to be fluent in French (although admittedly not Cajun French),
The...lyrics seem to evoke a visit or a date in the woods. The parts I can make out, other than the title, which he repeats many times, are "la-bas" (over there), "ma petite fille" (my little girl) and "touts seuls" (all alone). To me this suggest the singer is telling us about a date or rendez-vous with a woman in a secluded spot, perhaps in or near the bayou, taking into account that it is a Cajun song.
Not having studied the language since high school, my French is extremely rusty. However, I do remember enough to recognize
j'connais
, which, as I recall, means
I know
;
connais
being the first person singular form of
connaître
, meaning
to know
or
to be familiar with
. The expression
to know
in English can have a sexual connotation (albeit in a fairly archaic manner). It seems to me, then, that if
j'connais
has a similar sexual connotation in French, that
Dans Le Grand Bois
is nothing less than a song about having sexual relations in the woods.
If "Dans Le Grand Bois" had appeared on the original
Anthology
, it would have appeared on the "Songs" volume. It would certainly not be the first or only salacious song included in Smith's collection.
The Shameless Plug Department: You can still become a fan of "Where Dead Voices Gather" on Facebook, however, and follow us on
Twitter
. Where Dead Voices Gather: Using today's technology to promote yesterday's music!
Remember that I still host "Doin' The Thing," a weekly jazz program on KRML 1410 AM and 94.7 FM in Carmel, California. The show airs from 8 PM to 10PM (Pacific Time) on Sunday nights. You can also listen online by visiting the
KRML website
at 8 PM Pacific, 11 PM Eastern Time. Please tune in and give me feedback!
Here's some film footage of the Hackberry Ramblers performing and talking about their history in the 1991 documentary,
Marc and Ann
, a film about Marc and Ann Savoy.

Download and listen to Hackberry Ramblers - "Dans Le Grand Bois (In The Forest)"