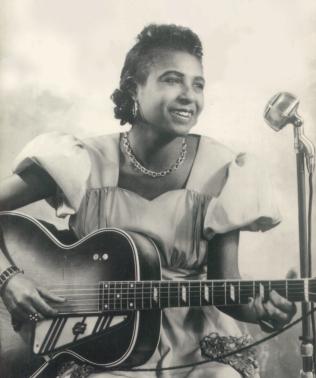 Set Four: The "Lost" Volume; Disc Two; Track Ten: "He's In The Ring (Doing The Same Old Thing)" performed by Memphis Minnie. Recorded in Chicago on August 22, 1935.
Memphis Minnie was born Lizzie Douglas in Algiers, Louisiana on June 3, 1897. She was the oldest of thirteen children born to Abe and Gertrude Douglas, both of whom earned a living as sharecroppers. In 1904, Douglas's family relocated to Walls, Mississippi. Around the same time, she received her first guitar as a gift and she began playing around the neighborhood. She would also sneak into nearby Memphis, Tennessee where she would play on the street and in public parks.
Around 1910, Douglas joined the Ringling Brothers Circus as a musician. She traveled all over the south with the circus before moving to the Bedford Plantation in Mississippi where she played with Willie Brown, a colleague and occasional performing partner of
Charlie Patton's
. During this period, Douglas began to establish a reputation as a first class blues performer, one of the few female blues musicians considered to be equal to (or even better than) the best male performers.
Before too long, however, Douglas returned to Memphis and began performing in the notorious Beale Street district. She had already proven herself a masterful blues musician, but living and working on Beale Street proved her toughness. She developed a reputation for hard drinking and gambling, and supplemented her income by working as a prostitute (charging the relatively exorbitant fee of $12 for her services, reportedly). Douglas also performed with
the Memphis Jug Band
during this period.
In 1929, Douglas made her first recordings for Columbia Records. Her first recording, "Bumble Bee" became a hit. It was on her first records that she was first credited as "Memphis Minnie," a name she continued to use for the rest of her career. She later recorded for other labels, including Decca and Bluebird, under the supervision of Lester Melrose. Among her other major contributions to the blues cannon, Minnie wrote "When The Levee Breaks" which was later recorded by Led Zeppelin.
Minnie was among the first generation of blues musicians to embrace the electric guitar, forming one of the first "classic" electric blues bands (consisting of electric guitar, bass, and drums). The sound Minnie helped pioneer lead the way for the Chicago blues musicians of the later '40s, including Muddy Waters, Howlin' Wolf, Little Walter, Willie Dixon, and Jimmy Rogers.
By the end of the 1950s, however, Minnie's music was considered unfashionable. Despite her use of electric instruments in performance, the more conservative record companies insisted that she record in her earlier style. She returned to Memphis in 1957. During this period, her health began to fail and she retired from performing. She spent the remainder of her life in a nursing home where she died from a stroke in 1973. She was buried in the New Hope Baptist Church Cemetery in Walls. Mississippi. A headstone was erected for her in 1996, largely paid for by guitarist Bonnie Raitt.
"He's In The Ring (Doing The Same Old Thing)" is an ode to the boxer Joe Louis (born Joseph Louis Barrow, 1914-1981). Joe Louis is widely considered to be one of the greatest heavyweight boxers of all time. Louis held the heavyweight title from 1937 to 1949, a total of 140 consecutive months. Recorded in 1935, "He's In The Ring" stems from relatively early in Louis's career, two years before he would win the heavyweight championship. Louis was a hero to African-Americans in the 1930s and 40s. While Louis defended his title numerous times during his long reign (more than any other champion since the bare-knuckle era), no fight of Louis's was as emblematic as his two bouts against the German fighter Max Schmeling. Louis and Schmeling fought on June 19, 1936 and again on June 22, 1938. Schmeling was held up as proof of Aryan superiority by Adolf Hitler and the Nazi Party. When Louis's first fight against Schmeling ended with Louis knocked out in the twelfth round. This was Louis only defeat by knockout during his prime. Poet Langston Hughes described the mood in Harlem following Louis's defeat:

I walked down Seventh Avenue and saw grown men weeping like children, and women sitting in the curbs with their head in their hands. All across the country that night when the news came that Joe was knocked out, people cried.
Louis met Schmeling a second time in 1938, after Louis had won the heavyweight championship. This time, Louis defeated Schmeling by a knockout in the first round. It was a major triumph for American blacks as well as a major setback for the Nazi image (the second such setback since Jesse Owens won four gold medals at the 1936 Berlin Olympic Games). Louis's victory helped to gradually defeat the myth of black inferiority.

Hey, you people going out tonight.
Let's go to see Joe Louis fight.
And if you ain't got no money,
Buddy (?), go tomorrow night.
'Cause he's in the ring doing the same old thing.

Well, he even carries a mean left.
You know he do!
And he carries a mean right.
And if he hit you with either one,
Sends the charge from a dynamite.
He's in the ring, boys, doing the same old thing.

I'm a-tell all of you prize fighters
Don't play Joe for no fool.
After he hits you with that left duke,
Same as a kick from a Texas mule.
He's in the ring, boys, doing the same old thing.

Joe Louis is a two-fist fighter.
And he stands six feet tall.
And the bigger they come,
He says, the harder they fall.
He's in the ring, oh! Doing the same old thing.

I'd chance my money with 'im!

For if I only had ten hundred dollars
And I laid up on my shelf.
I bet everybody passed my house
In one round Joe would knock 'em out.
He's in the ring, mmmmmmmmmmm! Doing the same old thing.

I wouldn't even pay my house rent.
I wouldn't buy me nothing to eat.
Joe Louis says, "Take a chance with me,
I'm gonna put (unintelligible) on your feet."
In the ring. He's still fightin'! Doing the same old thing!
"He's In The Ring (Doing The Same Old Thing)" is a blues masterpiece. Ably accompanied by Black Bob on piano and Bill Settles on bass, Memphis Minnie turns in a performance as powerful as one of Joe Louis's punches. Her voice is powerful, yet sensual, caressing the lyrics and lagging behind the beat. She makes frequent use of asides and exclamations, which add to the spontaneous feel of the recording. It is a highlight of the fourth volume in particular and of the
Anthology
as a whole.
This is also a performance that could not have appeared on the original three-volume
Anthology
. Like many of the ballads on volume one, "He's In The Ring" immortalizes a heroic figure in song. But unlike such figures as
John Henry
,
Cole Younger
, or
Stackalee
, Joe Louis is a figure set firmly in the present tense. All of the legendary figures on the original
Anthology
were dead and gone, but Joe Louis was somebody that a listener to this record could go see that very night. Blacks, as well as boxing fans of all colors, thrilled to Louis's exploits through newspaper reports and newsreels. Not only was Louis not dead, but his greatest deeds were yet to come.
Memphis Minnie was also far too contemporary a performer for the original
Anthology
. Her style was not only rooted in the classic country blues of the '20s, but it pointed towards the urban blues of the coming decade and rock and roll beyond.
"He's In The Ring (Doing The Same Old Thing)" is the first of two songs in a row that comment on current events that have nothing to do with the Depression and the first of two songs by a singer named "Minnie."
The Shameless Plug Department: You can still become a fan of "Where Dead Voices Gather" on Facebook, however, and follow us on
Twitter
. Where Dead Voices Gather: Using today's technology to promote yesterday's music!
Remember that I still host "Doin' The Thing," a weekly jazz program on KRML 1410 AM and 94.7 FM in Carmel, California. The show airs from 8 PM to 10PM (Pacific Time) on Sunday nights. You can also listen online by visiting the
KRML website
at 8 PM Pacific, 11 PM Eastern Time. Please tune in and give me feedback!
Unable to find a recent video of "He's In The Ring (Doing The Same Old Thing)" (always a risk with topical songs), we present a performance of a different Memphis Minnie tune. This is "Me and My Chauffeur Blues" performed by the East River String Band.
Download and listen to Memphis Minnie - "He's In The Ring (Doing The Same Old Thing)"